Moliets, France
From £210/week
Join a surf camp in Moliets to surf during the day and camp on the beach in Moliets in the South of France. The perfect surf camp environment to learn with professional international instructors and improve your surfing whilst having plenty of fun. Perfect waves, good times, great parties and an amazing all-round surfing experience for those that want as much excitement out of the water as in the water.
For bookings or information:
Dates: Each Saturday from May to August
Duration: 7 days
Multiple week stays available.
More than just surfing
Moliets Surf Camp is pitched in the stunning pine forests of Southwest France with the beautiful white beaches and the lively town centre of Moliets just outside our campsite. The wave conditions around Moliets-Plage are great for everyone either learning to surf or wanting to improve their existing surf skills. With a qualified team of international surf instructors, you will be in good hands & learning from the best!
After a hot day on the beach surfing and sunbathing, Moliets Surf Camp has several chill-out areas with hammocks and sun loungers for you to hang out in with your friends, and to make new ones from all over the world!
Made up of stylish bell tents, a large shaded eating area, a skate ramp, a brand new three-tier outdoor cinema arena and tiki bar, multiple chill-out areas with hammocks and sun loungers, surf equipment and storage tents, a surf theory shack and enough coloured lights to turn the night into day, your surf holiday will be unforgettable! We've also got table tennis, balance trainers, skate- and longboards for you and many other things to keep you stoked, entertained and smiling during your surfing holidays!
On top of this, there's awesome live music events and open mic nights, legendary Pub Quizzes and fancy dress flunky ball tournaments, a traditionally French wine & cheese night as well as a starlit outdoor surf movie night. You'll also take you on a night out on the town in Moliets' local bars and show you the most beautiful sunsets you've ever seen with music and drinks and the beach.
The international surf team of professional surf instructors don't simply watch you from the beach, but gets in the water with you to help you catch the best waves.
Choose from between 4 - 12 hours of surf tuition every week. This includes plenty of time surfing the amazing waves of Moliets-Plage, the beach just outside the campsite. On top of that, we include sessions on water safety and ocean currents to ensure you're safe when in the water with us and when surfing on your own. The maximum group size for each surf lesson is eight surfers per one to two surf instructors.
All our surf coaches are professional, experienced, fully-licensed and qualified plus have a lifeguard qualification. The surf equipment (surfboards, leashes and wetsuits) is free to use within the surf lessons and free to use upon availability outside of them.
Meals are included in this surfing experience and consists of a large buffet style breakfast, picnic lunch and a fantastic evening meal cooked by the in-house chef. You can expect a range of pastas, salads, BBQs and other dishes. This food package includes breakfast everyday and lunch everyday and 6 evening meals.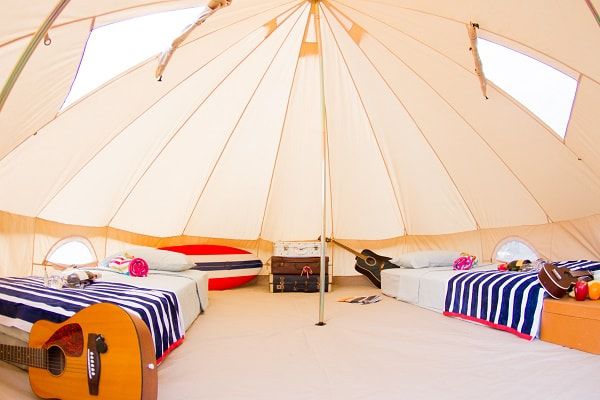 All over the world, yoga has swept surfers off their feet with all professional surfers using yoga to improve their flexibility, core strength and surfing performance. If after a long surf camp day surfing you feel like you could do with some stretching, yoga is a fantastic way to improve your flexibility and to strengthen your body.
Surf Yoga Sessions are included and for those of you who have never done yoga before, your group session is a fun and informal introduction to surf yoga.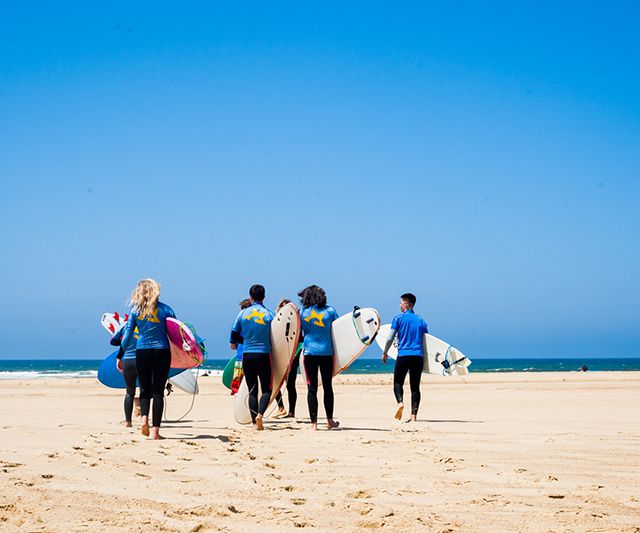 Surf lessons
Bell tent accommodation
3 Meals/ Day - vegetarian & vegan options available
Unlimited yoga
Free use of all surf camp equipment
Free wetsuit & surfboard hire

Accommodation
You will stay in beautiful and new bell tents sharing these amazing tipis with a maximum of just 2 other surf camp guests means that your surfing holiday accommodation provides you with ample space and is the perfect home away from home. You'll be provided with the very best memory foam mattresses available: allergy free, high density, super comfy and guaranteed to give you a great night's sleep after a brilliant day surfing. All you need to bring is your a pillow, a sleeping bag or bedding and a smile!
How to get here
Fly to Biarritz or Bordeaux airport or Dax train station and be picked up from the airport by a coach transfer we can help organise.