Tuscany, Italy
From £2,950
Follow in the book and films footsteps learning to cook classic Tuscan cuisine while staying at a secluded deluxe hotel surrounded by olive groves and vineyards.
For bookings or information:
Dates: Upon request April - November
Duration: 7 days
3 day version available
Picture Postcard Destination
On this Tuscan cooking class just three kilometres from the historical city of Cortona, famous for its hidden treasures and gorgeous landscapes, you will stay at the Il Falconiere – a small, luxury hotel in the heart of Tuscany. The estate boasts a beautiful spa, Baracchi Winery and a famed 1* Michelin restaurant.
For many generations the estate was the Barrachi family house before being restored. The owners, Riccardo and Silvia Baracchi, manage the property and personally take care of the guests giving the hotel a warm and inviting atmosphere; like you were staying at a friend's gorgeous, sumptuous villa.
You will learn to cook traditional Tuscan recipes with Chef-Owner Silvia Baracchi or one of the other restaurant chefs. The cooking school is located in the charming house, where you can relax while getting to know the region. After making delicious bread, delectable starters and main courses, and enticing desserts, enjoy what you've created in a beautiful dining room. The cooking school will increase your natural love for food and provide you with the skills you need to translate this love into beautiful and imaginative cuisine.
Tuscany was home to the Renaissance and some of the greatest artists of all time - Leonardo, Michelangelo, Raphael, Botticelli, Brunelleschi & so many more
Relax upon arrival with a welcome aperitif around 8pm with Silvia & Riccardo Baracchi which will be followed by a delicious dinner in the hotel's famed Michelin-star restaurant.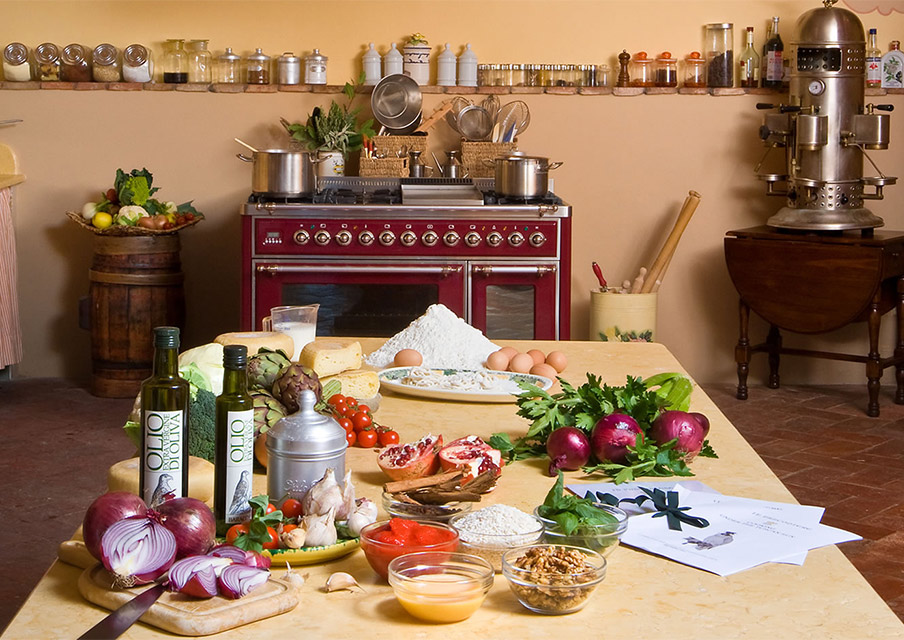 After breakfast, your first cooking lesson! "Pane, Olio e fantasia" ("Brea, Oil and Imagination"). Your menu might include: stuffed aubergine with almond, tomato confit and basil, ribollita; traditional Tuscan soup; saltimbocca of pork fillet with sage, juniper berries and bay leaves; and cantucci.
Lunch will follow accompanied by great Tuscan wines and you have the afternoon at your leisure. Relax in the Thesan Spa (which has a sauna, Turkish bath, Hydro massage pool and Chromo Emotional shower) and perhaps schedule a wine therapy relaxation massage.
In the evening, take a guided walk around Baracchi's vineyards and winery whilst learning about the process of wine making from the vineyard to the bottle before having your own dinner.
Take a guided sightseeing tour of Cortona in the morning for a visit of the charming city, setting of the book and film 'Under the Tuscan Sun'. If possible, you will visit the weekly market to buy ingredients and you can enjoy your own lunch in Cortona.
After your return you will have an afternoon cooking lesson featuring Etruscan cuisine. This menu will be based on ancient Etruscan civilization and might include: traditional wild herb pie with parmesan fondue, "gnudi" pasta with ricotta cheese, local lamb in a crust of Tuscan bread, sautéed greens, and berry cake with mascarpone cheese mousse.
Dinner will be based on your efforts with wine included.
Depart at 9am after breakfast for a guided tour of Assisi or Arezzo and have lunch in a typical Umbrian Restaurant with wine tasting of the finest Umbrian wines.
Relax in the afternoon and have a cheese making lesson and special dinner in the kitchen with Silvia.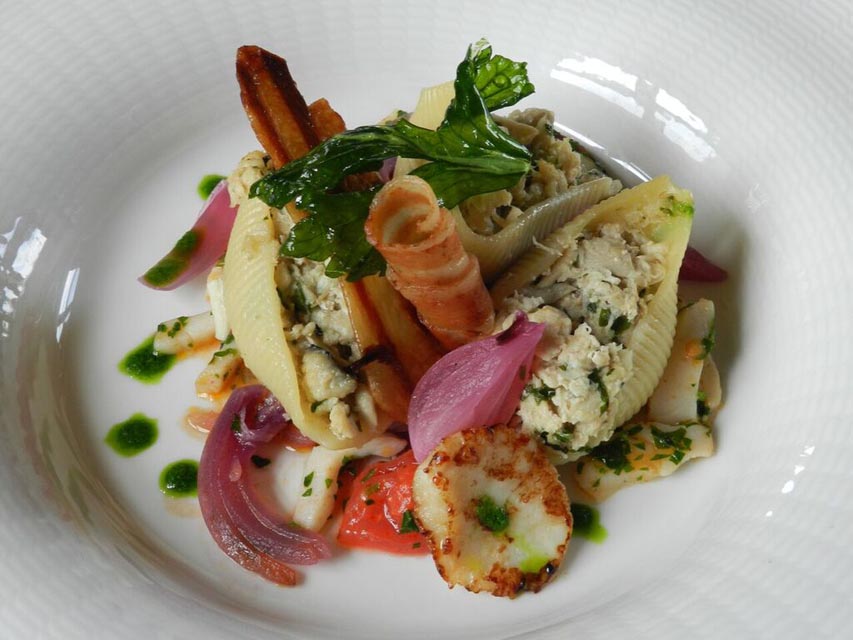 Have breakfast and visit the local open-air market. At the market, you will select vegetables and other ingredients to use during your class and have lunch alfresco with local specialities.
In the afternoon you will leave for the Locanda del Molino for your third cooking lesson – "The Many Flavours of Tuscany". You menu might include: panzanella, pici pasta with tomato and aromatic herb sauce, tagliatelle with duck sauce, ricotta and nettle ravioli served with sage and butter, scottiglia and polenta, and lattaiolo.
Dinner will follow with a selection of Tuscan wines.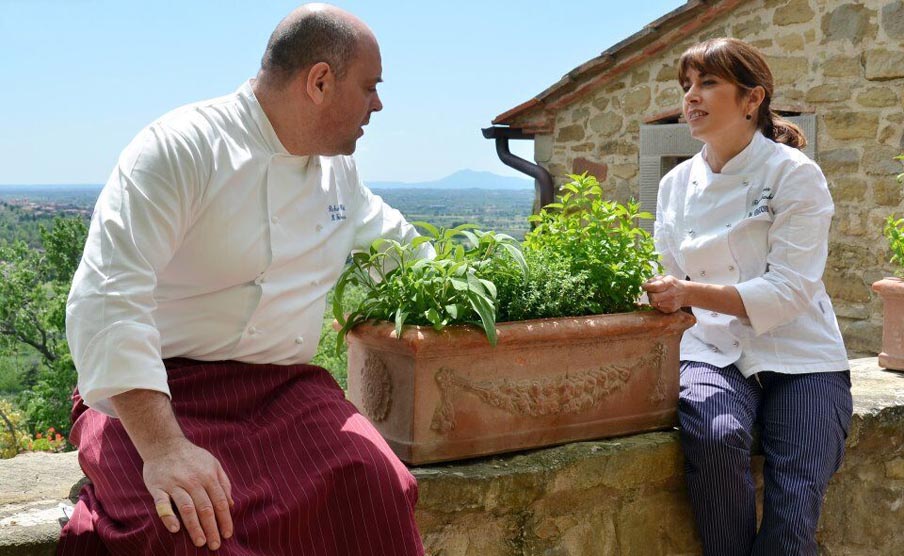 After breakfast, depart for a guided sightseeing tour of Pienza & Montepulciano and break for lunch at a local establishment during your excursion.
Return to the relais for your last cooking lesson – "Fish and its Secrets". The menu might include: basic fish broth, bacon-wrapped scallops with potato puree and bay leaves, ricotta with saffron and seafood, casserole of monkfish and scampi, as well as napoleon of custard and pears with melted chocolate and pine nuts.
Enjoy a farewell dinner together for the last time.
After breakfast, say your goodbyes before leaving.
Itinerary can change in low season and dependent on weather.
Six nights accommodation in double room
Daily breakfasts, four lunches and five dinners
Four cooking lessons
Wine with the meals following the cooking lessons
Cheese lesson and dinner with Silvia
Visit theBaracchi wineries
Free entrance to the Thesan Etruscan Spa, Aqua & Vapori circuit (hydro massage pool, sauna,Turkish bath, Chromo Emotional Shower)

Accommodation
Once a Tuscan villa, the Il Falconiere is a small, luxury restored relais in the heart of Tuscany. Within easy reach of Montepulciano, Pienza, Arezzo, Perugia, Assisi and Siena, and not far from Orvieto and Florence, you will be in the heart of Italy. Each of the 22 rooms and suites are individually decorated to give it a sense of timeless elegance and comfort with boast amazing views over the vineyards and olive groves. The estate is complete with a 1* Michelin restaurant, a beautiful spa, and of course the Baracchi Winery, run by your host Ricardo. The hosts and owners, Ricardo and Silvia Baracchi, are on-site welcoming you to this wonderful getaway in the heart of Italy.
How to get here
Pick-up Transfers can be arranged upon request from Rome and Florence.
Fancy a Michelin Star cooking course on the Amalfi Coast instead? Click here to find out more!